Argox introduces the new AI-6801 scanner
Argox introduces the new AI-6801 scanner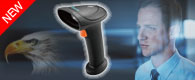 Argox introduced the new AI-6801 scanner. AI-6801 is capable to capture high resolution code on 3mil such as industrial label for electronic device and jewelry tag. It also can read the barcodes on the LCD of various electronic devices, such as mobile phone, PC, and tablet. AI-6801 will endure harsh environment such as dusted zone and high/low temperature, it will still perform perfect under IP65 and 1.8m drop distance specification.
3mil resolution barcode readability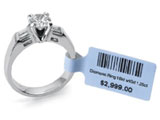 AI-6801's new linear imager engine has enhanced bar code scanning capability. Support reading code on 3mil barcode such as jewelry tag and electronic tag, rapid reading speed at 700 scans per second. It overcame the electronic scanning problem, and supported all type of electronic device, such as mobile phone, PC and tablet.
1.8 meters drop distance protection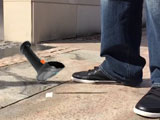 It is inevitable to have an accident when using a scanner. AI-6801 is constructed with integrated outer casing and withstands 1.8 m drop impact with remaining normal operations.
IP65 dust and water resistance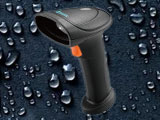 In order to meet the users of various industries, AI-6801 is designed with industrial grade IP65 dust and water resistance durability. AI-6801 is suitable for supermarket, retail, industrial, warehousing and logistic industry.