Argox Product Launch in the Philippines a Success
Argox Product Launch in the Philippines a Success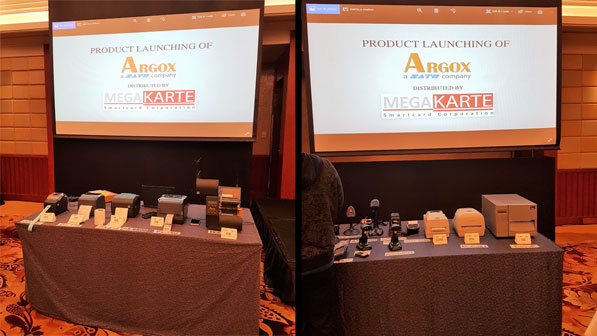 Argox brand was officially launched in Shangri-la, Makati, Philippines by its local distributor, Megakarte Smartcard Corporation.
The attendance of over 100 persons were mostly comprised by label manufacturers, resellers, government representatives and private companies who are all looking forward to use and take advantage of Argox brand equipment in their businesses.
Argox presence in the Philippines has been very minimal due to the market's size. But as one of the robust economies in Asia now, it is about time that Argox shows a strong presence in the country to benefit from the economic growth.

This event was opened by Argox's VP for Businesse Development, Perry Ho, and Megakarte's CEO, Nance AL Sbini. Product presentation and demonstration were conducted by John Laredo (BD) and Wilbert Hung (FAE) together with the technical and sales team of Megakarte.
The launch was considered a success as it caused a buzz among the AIDC business community. Local distributor Megakarte has reported meeting schedules requested by guests and all those who read about the launch in newspaper ads. The future looks very promising for the Argox in the Philippines.
The event was two months in the making and was made possible by Argox and its Philippine partner, Megakarte Smartcard Corporation.